---
When you choose Shine Lawyers to handle your car accident or motor vehicle claim, you trust in experience, expertise, determination and hard work. We're not your typical law firm. We will work hard for you, go that extra mile, and provide the high quality legal service that you expect.
We are not afraid to challenge the norms or think outside the box in order to get the best result for you. Our reputation is an example of this, which is why more and more people are turning to us for help following an injury.
Why bring about a car accident compensation claim now?
When it comes to making a car accident compensation claim, the longer you take to bring your case forward, the harder it is for your legal team to build the strongest case possible that will result in maximum compensation to you. If you leave it too late – you may even forgo your right to make a claim forever.
Don't delay, if you have a case it is in your best interests to get legal help as soon as possible so you have the necessary funds for the future.
If you don't claim now, you may never be able to
The law sets strict time limits for car accident and motor vehicle claims and these are different for each state in Australia. It's important you act quickly so the opportunity to claim is not lost.
It could result in more compensation to you
As accident claim experts, bringing a claim forward with us quickly can make a big difference when it comes to maximising your entitlements. Bringing a claim forward early allows us to build a strong case that takes into account the full scope of your injuries and the effects they are having on your life. It can mean you get more compensation at the end of the process.
Don't wait for your state commission or authority to assess your claim
Don't rely on the relevant state body to assess your claim and provide compensation entitlements. These bodies are not interested in maximising your entitlements or looking at your situation from a long-term perspective. You may not receive the full range of compensation entitlements as a result. It's important you receive independent legal advice as soon as possible and always before you are assessed.
Why bring about a car accident compensation claim at all?
Safeguard your future
Bringing about a car accident compensation claim for injuries you have sustained on the road is an important decision for you and your family. The compensation you receive could have a huge impact on your life and the welfare of you and your family.
If you don't bring a claim forward it could mean severe hardship later on in life. It's important you are armed with all the facts so you can make an educated decision on whether or not to pursue a claim – which is why we recommend speaking to one of our lawyers. You'll get a really good understanding of your rights and options moving forward in an obligation-free environment.
Road users pay CTP insurance for a reason
When you bring about a car accident claim, in most cases, its the insurance company of the person at fault that will pay you the compensation rather than the individual themselves. It's a common misunderstanding that those at fault will be the ones that have to pay you the compensation for what's happened – but this is very rare in motor vehicle claims. The claim is almost always against the insurance company and the person involved don't typically pay the compensation out of their own pocket.
Less stress for you and your family
Bringing about a claim for car accident compensation usually isn't as stressful as it may seem. It can provide peace of mind knowing that experts are handling your claim and it can provide clarity on what to expect for the future.
As experienced lawyers you can feel comfortable knowing that we will work hard to make the whole process as stress-free as possible. That's part of our job. Your focus and energy should be spent on you and your family.
Why bring about a claim with Shine Lawyers?
Getting legal advice following a car accident can be quite daunting at first. There can be a lot to take in and a fair amount of courage is needed to actually ask for help. But what we've found after nearly 40 years of practicing motor vehicle law is that it does get easier for you as a client.
Our lawyers do a great job of really listening to what you want out of the whole process and give our all to ensure you are not burdened by coming forward and making a claim. As lawyers, it's our job to do all we can to reduce your level of stress and help you walk away at the end of the process with a sense of vindication and with the compensation you need in order to move forward with your life.
We explain things in plain English
We'll make sure we don't bombard you with legal jargon. We'll explain things in plain English and keep in regular contact with you to ensure as the process is as stress-free as possible. You'll know how things are progressing with your car accident claim and feel comfortable that we're handling things appropriately and to your liking.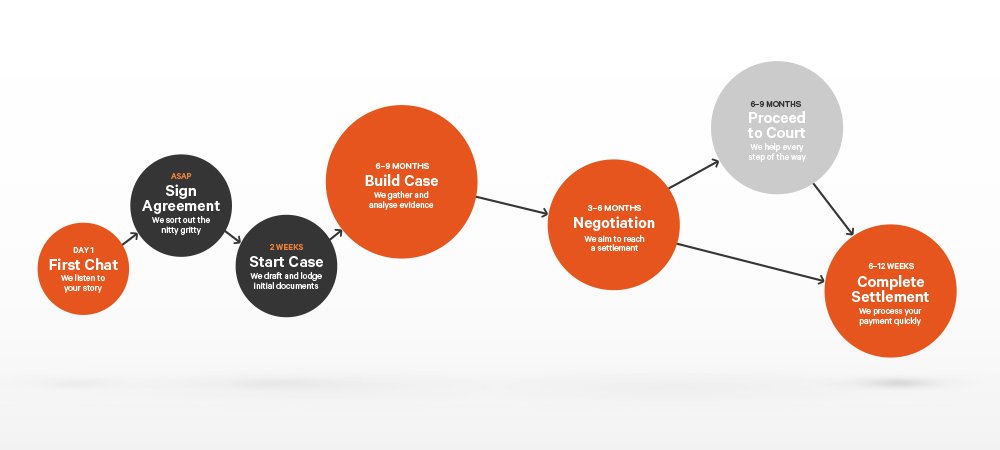 We get the best outcome for you
We've been fighting for the rights of injured people for over 40 years and we have a reputation for getting fantastic results for our clients. Our legal results are well documented and we've been involved in many landmark decisions across Australia, some of which have resulted in changes to government legislation.
When you bring forward a claim with us you can be sure our lawyers will work hard and lean on the wealth of experience throughout the firm to get you the compensation you need. Each and every client is important and every case provides its own challenges, but our lawyers will face these challenges head-on with the commitment and skill required to achieve the best possible result for you.
Click to meet some of our expert lawyers
Personal Injuries Accredited Specialists
Shine Lawyers have several lawyers who have risen to become personal injuries accredited specialists in their field. Achieving this accolade is extremely hard and is testament to the dedication and skill of individuals with the firm.
NSW
Ron Kramer, Fairfield Susan Newman, Sydney
QLD Jodie Willey, Brisbane Kathryn Rayner, Townsville Melissa O'Neill, Brisbane Roger Singh, Brisbane Simon Morrison, Brisbane
We minimise your costs
All of our car accident compensation services are available on a No Win No Fee basis, which means you will only pay our legal fees if we win your case at the end. With this fee structure, we don't get paid unless we win, which means we have skin in the game and every incentive to get you the best possible result and to win your case. We back ourselves and our ability so we're willing to take on the risk and get you the outcome you need.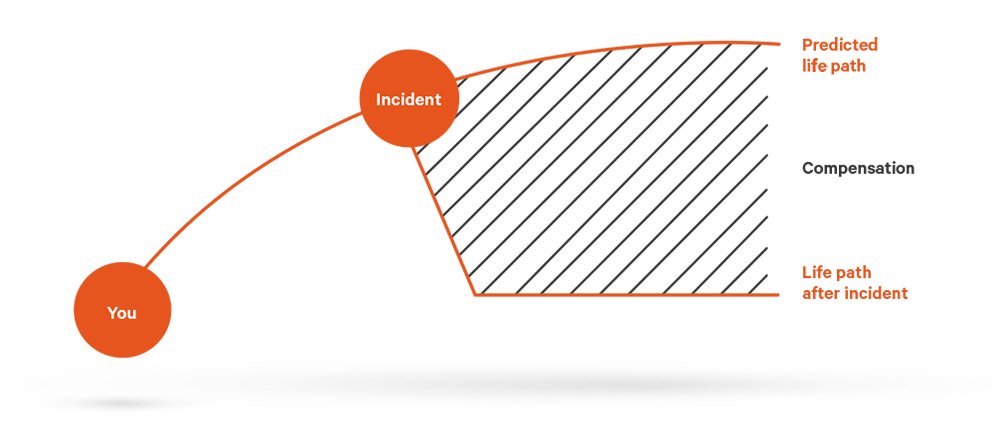 Hear from others who have been through the legal process
Over the last year we've helped many clients get the compensation they need. Our lawyers have successfully settled nearly 4000 claims and recovered $399 million in compensation.
Below are some videos from clients who have been through the legal process.
topBack to top()