If you have suffered an injury from a motorbike accident or quad bike accident in Queensland or Western Australia (WA), you may be eligible to make a compensation claim.
---
This page is written specifically for a Queensland or Western Australian audience. Restrictions in these states prohibited us from showing certain information regarding our legal services, so if you are located outside these states please click here for
information on motorbike accident law
.
Shine Lawyers have motorcycle accident lawyers in QLD and WA that work on a no win no fee basis, meaning you don't pay for our legal costs unless we win your compensation claim at the end. Neck injuries, back injuries, spinal injuries, are just a few of the types of injuries that you may be able to make a compensation claim for.
How much compensation can I receive after a motorbike accident in Queensland or WA?
The amount of compensation you are entitled to depends on the nature of your case.
Typically, compensation can vary according to:
how bad your injuries are,
your age,
how much you have lost and will lose in wages,
how much care you need,
how much you have paid out of your own pocket,
Damage to your motorbike or contents on the motorbike can generally be claimed through your own insurance provider. It's possible that in some cases the insurer will agree to pay for some or all of the costs for your ongoing treatment, so that you're not out of pocket while you're waiting for the claim to be finalised.
What can I claim motorbike accident compensation for?
Depending on your circumstances, it's possible to claim motorbike compensation in Queensland or WA for:
medical and hospital expenses
loss of earnings
pain and suffering
Help you have needed at home (paid or unpaid)
A lawyer will be able to tell you what you might be able to claim for after they know the facts of your case.
Each motorcycle accident claim is unique. However, the below video provides a simple guide to the steps involved in the compensation legal process.
How motorcycle crash compensation gets calculated in Queensland and WA
Depending on the nature of your motorbike accident compensation claim, in most instances a monetary value is placed on the gap between your predicted life path before the motorbike injury, and your actual life path since the motorbike injury.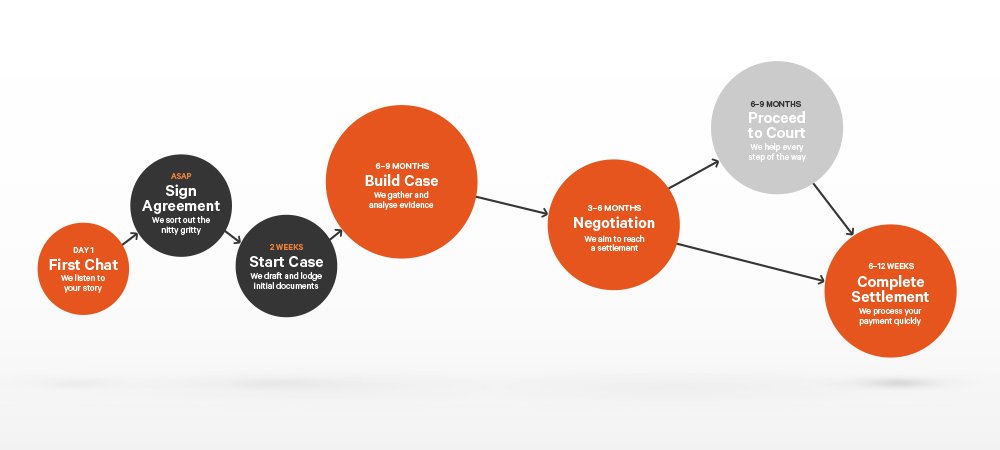 Related info:
Superannuation and Disability Insurance
If you are unable to work due to illness or injury you might be entitled to benefits through your superannuation or other insurance policies. We recommend speaking to one of our experts for a quick, obligation-free analysis of your situation to determine your rights and ability to make a claim.
Learn more about Superannuation and Disability Insurance Claims