---
Occupational Cancer: The affects of carcinogen exposure at work
Occupational cancer can occur when employees are exposed to carcinogens (cancer-causing agents) in the workplace. Carcinogens include industrial chemicals like asbestos and diesel exhaust, forms of radiation including UV rays, night shift work and even entire careers such as working as a painter. Occupational exposure to carcinogens causes about 5000 new cancer cases in Australia per year.
Common Carcinogens
According to the WHO International Agency for Research on Cancer (IARC), there are over 165 cancer risk factors in the workplace, and a recent study compiled a list of 38 that are particularly prevalent in Australian workplaces. In addition to common ones like asbestos and UV radiation, the list included solar ultraviolet radiation and diesel engine exhaust. Shift work was also listed as a probable cause of cancer due to disruption of the circadian clock. Not all of the factors posed an equal risk. Asbestos was found to increase the risk of cancer by 55 to 77 times, while shift working may only increase the risk of breast cancer by 1.7 times. In 2014, a survey reported that the most common carcinogens in Australian workplaces were second-hand smoke, diesel engine exhaust, solar ultraviolet radiation, benzene, lead and silica. Farmers, drivers, miners and transport workers were considered especially at risk.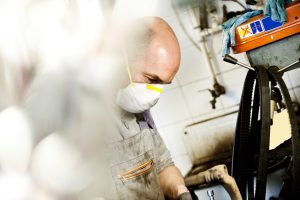 Preventing Workplace-Related Cancer
Your workplace should always follow safe work practices for cancer prevention. State Occupational Health and Safety Acts mean that employers must ensure that
workers can do their job safely
, eg: by limiting their exposure to UV radiation. For more information or if you have concerns, contact the Cancer Council on 13 11 20.
Written by Shine Lawyers. Last modified: October 27, 2016.