---
Spinal Cord Injury Awareness Week is a national initiative by the Australian Spinal Injury Alliance. The week long campaign aims to create a more inclusive and accessible community for everyone.
How does a spinal cord injury occur?
This life-changing injury occurs when a force or movement bruises, stretched or impacts the spinal column, this will put pressure on the spinal cord and surrounding nerves to result in loss of function.
The force or impact can be experience by people in many different ways. According to SCIAW, almost 80% of spinal cord injuries are caused by a traumatic accident in Australia, with the following breakdown;
Spinal Cord Injury prevention
There is currently no cure for spinal cord injuries, which makes prevention so important. With the majority of traumatic spinal cord injuries occuring in
road traffic accidents
, drivers need to be diligent while behind the wheel and keep in mind that in the car next to you is somebody's child, somebody's mother, somebody's friend.
Most spinal cord injuries are permanent and can include long periods of time, even years, in hospital and in rehabilitation. Always think before getting behind the wheel. Don't drink and drive, don't speed, wear a seat belt and drive to the weather conditions. It could prevent a permanent injury to someone else or even yourself.
Australia Spinal Cord Injury statistics
Approximately 15 000 Australians are living with a spinal cord injury
This number is growing every year by 350 – 400 people
Traumatic spinal cord injuries are 4 times more likely in males than females
Life with a spinal cord injury
One particularly inspiring story is that of Jeffrey Wright. He was rendered paraplegic following a devastating highway
motorcycle accident
in 2015.
While Jeffrey adjusted to the changes in his body and movement he was determined it would not break his spirit or quality of life.
With long running interest in Basketball, after the accident, Jeff decided to join as wheelchair basketball team. Less than a year on from the accident, Jeffrey was completing in the Queensland Wheelchair Basketball Championships for the Townsville Cyclones!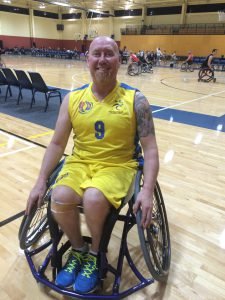 The Perry Cross Spinal Research Foundation is funding research required to find a cure for people living with spinal injury, like Jeffrey. To find out more or make a donation, visit the website here: http://www.pcsrf.org.au/
Written by Shine Lawyers. Last modified: September 7, 2016.