---
When it comes to road rules in Australia, misinformation is all around us. The laws vary across the states and it can be difficult to keep track of new and amended rules. We're here to set things straight and have busted some common myths surrounding the rules on our roads.
Myth - Eating food after drinking will lower your blood alcohol levels
Many people wrongly believe having something to eat after drinking will lower your blood alcohol levels (BAC) and help you sober up. Eating before you start to drink will slow the rate of the alcohol reaching the bloodstream, but not after. The only thing that will lower your blood alcohol level is time.
Many other factors impact your blood alcohol level, apart from having an empty stomach:
Body size and fat percentage
Gender
Tolerance, and
The alcohol percentage of beverages.
Click here for our guide on what to do if you spot a drunk driver on the road. 
Fact - Eating while driving could lead to a fine
Distracted drivers are a major cause of motor vehicle accidents in Australia. While mobile phones are the main culprit, other tasks such as eating are just as dangerous. According to a study by Griffith Health Institute researchers, both eating and texting have the same affect on a driver's concentration levels.
There's no law specifically stating that drivers aren't allowed to consume food while driving. However, the laws on driver distraction could cover snacking behind the wheel if it interferes with a driver's control of the car.
In fact, a man in Brisbane was fined $250 for eating hot cakes with a knife and fork. He had no hands on the wheel and was charged with failing to have proper control of his motor vehicle.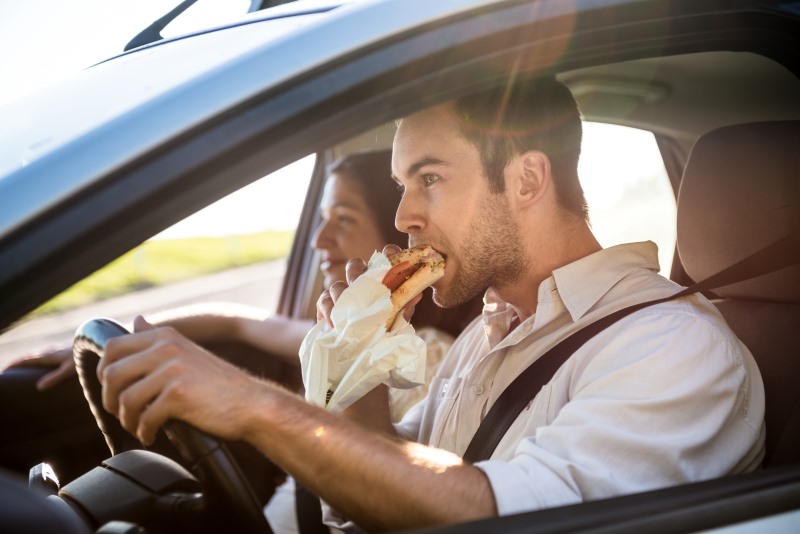 Myth - You can't get a fine for drink driving on a bike, scooter or skateboard
When riding a bicycle, scooter or skateboard on a government-maintained road, you must obey the general road rules. It's just like driving a motor vehicle.
While the penalty is more for those who decide to get behind the wheel while over the limit, there are consequences for those that are riding, scooting or skating when intoxicated. Alcohol affects your vision, reaction time, concentration and alertness. So remember - you're putting yourself and others around you in danger when intoxicated, regardless of the mode of transport.
Don't risk it. Catch a taxi, jump on a bus or organise a lift with a designated driver.
Fact - Wearing a seatbelt can protect you in a low speed accident
Many people believe if they're just popping around the corner or driving a short distance, they don't need to worry about a seatbelt. However, according to the Centre for Accident Research & Road Safety, even at low speeds (less than 60 km/h) not wearing a seatbelt can result in serious consequences.
In a motor vehicle accident, a correctly secured seat belt can:
Reduce the risk of being thrown from the vehicle
Prevent colliding with other people and interior parts of the vehicle
Spread the force across the occupant's upper body, and
Slow the speed of the occupant.
Shine Lawyers - Get in touch
If you or a loved one has been involved in a motor vehicle accident, help is available. Get in touch with Shine Lawyers' expert motor vehicle accident lawyers to begin your claim for compensation.
Written by Shine Lawyers. Last modified: December 7, 2016.