---
It appears that 2016 was a rough year for many Australian businesses. We saw some of our favourite stores begin to shut down or go into administration. According 9Finance, over 9000 businesses collapsed in the last financial year with insolvency professionals tipping 2017 to be another big year.
When a business is unable to pay its debts, one of three different courses of insolvency action will usually take place.
Defining administration, liquidation and receivership
Administration
- There are two different ways administration can occur for a business in financial difficulties. Voluntary administration is when a business seeks independent assistance to help find the best outcome for the business and the creditors. Involuntary administration occurs when the courts appoint an administrator. This administrator must be an insolvency practitioner.
An administrator will usually take control of the business to find the best way forward for the business, employees and creditors.
Liquidation – This is the process of winding up or selling assets of a business to pay off creditors.
Receivership – Very similar to liquidation, except that in receivership the appointed receiver is to liquidate assets to pay off one creditor.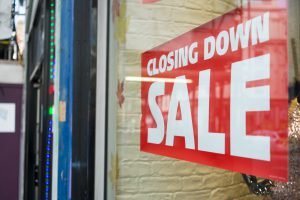 Why have so many businesses hit financial trouble in 2016?
Many factors come into play when it comes to the success of a business, we've touched on some of them below.
Too much growth – Businesses of all sizes can find themselves in financial difficulties when they grow too fast. This occurs when businesses deplete their working capital or borrow more money for a number of reasons, such as;
To open new stores
Purchase more stock
Hire more staff
In 2016, Pumpkin Patch experienced a similar situation when the Australian born business was placed into administration. Financial commenters have indicated that expansion into overseas markets while relying heavily on debt was fatal to the once popular children's brand.
Slow to respond to competitors – With overseas companies coming to our shopping centres, our home grown retailers are experiencing competition more than ever. This is good news for consumers as they have lower prices and more choice.
It is not just the overseas companies that are shaking up the retail industry. The big players like Kmart, Target and Big W are currently in a price war that have affected some other retailers, like Howard's Storage World. Howard's Storage World went into voluntary administration just before Christmas as consumers are choosing to purchase their organisational products from bigger retailers that can offer cheaper prices. It is still business as usual for the storage specialist as the administrators assess its financial state. Although early reports suggest that a buyer may be interested in purchasing the chain.
No point of difference for consumers – Australian consumers are spoilt for choice these days. There is so much competition in the retail space that shoppers will often break away from their usual stores if there is something different on offer. Points of difference could be
The items for sale
Price,
Customer service
Convenient location or;
A more enjoyable shopping experience.
The Woolworths-run hardware store, Masters failed because of this reason. Business analysts determined that Masters was unsuccessful in differentiating their brand from the already established and trusted Bunnings.
Media reports have indicated that Masters is selling of their sites to other retails such as Costco, Spotlight Group and Chemist Warehouse just to name a few.
Written by Shine Lawyers. Last modified: January 12, 2017.