---
2 in 100 Australian's are affected by food allergies. In some cases, children will outgrow their food allergy but for those that persist into adulthood, the risks are a lot greater in terms of fatal reactions and anaphylactic shock.
Allergy & Anaphylaxis Australia defines an allergy as an immune system reaction to a substance (allergens) in the environment. In the case of food allergies 90% of reactions are cause by nine foods;
Milk and dairy products
Egg
Peanut
Tree nuts
Wheat
Seasame
Soy
Seafood
Symptoms
Depending on the severity of the allergy, people at risk can experience a range of reactions after consuming an allergen. The infographic below provides a guide to this (click to enlarge).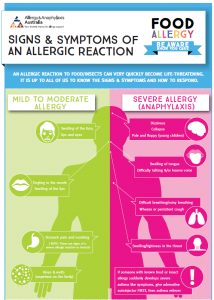 People with allergies need to be careful when consuming food that they have not prepared themselves. Even the smallest cross-contamination can result in a reaction for some people. Because of this, every member of the food service industry must take allergies of customers seriously and play a part in creating safer food choices for those at risk. This can be done by;
Ensuring all food items are labelled correctly.
Limits cross-contamination during food preparation.
Food altered to suit allergy requirements, when possible.
Education is key to ensure all food service staff can provide accurate information to those Australian's with food allergies.
What are you rights?
If you have suffered hospitalisation or a severe reaction to a food allergy because a restaurant, caterer or other form of food service has mislabelled or failed to acknowledge your allergies, you may be able to
seek compensation
. Outcomes for this type of
personal injury claims
can result in a settlement to cover hospital bills,
loss of income
for time off work as well as mental distress.
Shine Lawyers believes everyone has the right to compensation if they have been seriously injured because of someone else.
One notable case was a client with a severe peanut allergy who unknowingly consumed peanut traces on a flight and experienced a life threatening reaction. The airline had been informed of the allergy before the flight but the attendants were not educated in dealing with the allergy. The airline was found to be liable and negligent in this instance and the client received compensation as a result.
Be aware and show you care by getting involved in Food Allergy Week from 15-21 May 2016. The annual initiative aims to raise awareness about food allergy in Australia, reduce the risk of a reaction and help education people in what to do in case of an emergency.
Written by Shine Lawyers. Last modified: May 18, 2016.