---
International cruises continue to be a popular holiday choice for people of all ages and interests. Allowing holiday-makers to hop from one exotic location to another in luxury. However, accidents on cruise ships still happen, and in unfortunate circumstances it is important to be aware of your rights and responsibilities - to give yourself the best chance of safety and protection.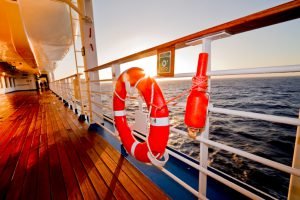 The most important thing to remember when embarking on a cruise is that these vessels are governed by strict health and safety standards. They are also built and maintained meticulously, and equipped for far worse conditions than you are ever likely to face.
However, for your own peace of mind it is always beneficial to know what you should do in the extremely unlikely event of an accident on a cruise ship, so here are some tips on how to stay safe on the open seas:
Do your research: It's always good to compare reviews and comments in regard to the safety of the vessel. Whilst all cruise companies that operate within Australia are required to comply with the highest safety standards, there will always be differences.
Pay attention: Listen during the emergency drill and any staff instructions, and take note of any safety signage on the ship and in your room.
Be smart: in an emergency try to stay calm and calm those around you, and most importantly, don't jump overboard! In the case of a storm, stay in your cabin unless instructed otherwise, and always follow crew instructions
Be healthy: You're on holiday and you deserve a cocktail or two if you'd like! However, be aware that the sun, waves and motion of being on a cruise intensify the effects of alcohol. Make sure you drink plenty of water and pay attention to your health – particularly after being exposed to unfamiliar foods and environments. Remember the medical staff are there to help you have the most enjoyable time possible
There are also a few things you can do if you are injured at any time during your cruise to ensure that you are properly protected:
Report to the medical staff straight away – even if you don't think it's a bad injury, and make sure you explain what happened in detail and get a copy of the incident report
Keep your own notes about what happened and any symptoms you might have, including dates and as much detail as possible
If you can, take photos of the area where it happened and take note of any CCTV cameras that may have recorded the incident
Get the contact details of anyone who may have witnessed the incident
Try to enjoy the rest of your holiday!
Bon Voyage!
Written by Shine Lawyers. Last modified: February 15, 2017.