---
Brain Injury Awareness Week and the Effects of Living with a Brain Injury
Brain Injury Awareness Week runs from August 15-21, and the theme for 2016 is 'Young Stroke'. Brain Injury Australia and the National Stroke Foundation have joined forces to shine a light on the stories of young stroke victims to show that strokes don't only affect older people. Persons under 65, teens and even children can suffer from a stroke.
Not everyone realises that recovering from any brain injury can be a lengthy – even lifelong – process. BIA and National Stroke Foundation have planned a series of awareness-raising events and activities that kicked off in Melbourne with the national launch.
Harry's Story
Harry* [not his real name] was in a life-altering motor vehicle accident that left him with a traumatic brain injury.
His mother and father cannot go to work because they are now his full-time carers. He also requires the services of two support workers who visit from time to time. Harry has been unable to continue his education and, although his eyesight is improving, he still doesn't have his full vision back.
Among the many other therapies he is undertaking, Harry is undergoing hydrotherapy and re-learning how to move his body. Even basic movements like extending his leg 90 degrees unassisted has been a challenge.
Harry's parents have had to make modifications to their car so they can hoist Harry in and out of it to take him to and from medical appointments. They have also had to make modifications to their house. Their sacrifices are an example of the toll that a traumatic brain injury can take on survivors, their families and friends.
Brain Injury Information
According to BIA, acquired
brain injury
(brain injury that occurs after birth) can be caused by accident or trauma, by a brain infection or a disease such as Parkinson's, by alcohol or other drugs or by a stroke.
Brain injury is more common among younger people than some would expect. Three out of four of the 75,000 Australians with a brain injury are aged under 65. Two thirds of them suffered their brain injuries before they turned twenty-five.
A stroke is the leading cause of brain injury, and in Australia around 60,000 strokes occur each year. As well as physical impairment, a stroke can also cause changes to a person's way of thinking or emotions.
After a stroke, the second most common cause of brain injury is trauma. Most of the time, traumas are caused by falls. But roughly one in three is the result of a motor vehicle accident and one in six is caused by assault.
It is common for a person with an acquired brain injury to have trouble with energy levels, memory or concentration.
The brain is responsible for feelings and thoughts as well as movements, bodily functions and breathing. It's made up of billions of nerve cells and a number of different parts which work together as a whole.
Shine Lawyers and ASSBI (Australasian Society for the Study of Brain Impairment) partnership
Brain injury awareness is something close to us at 
Shine Lawyers
 as we parnter with ASSBI to help improve the lives of individuals and families affected by traumatic brain injury and neurological conditions. For more information on their work visit
http://www.assbi.com.au/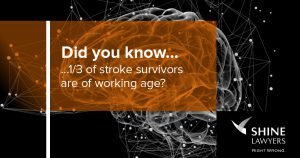 Written by Shine Lawyers. Last modified: August 18, 2016.