---
As the old saying goes, employees ought to be able to go to work and return home to their family in one piece. Unfortunately, one in five workers claim to have made a complaint regarding workplace safety that was simply ignored or never fixed. Even more shockingly, according to a new national survey commissioned by Shine Lawyers, one in ten workers are too afraid to report safety issues in fear they may be fired. Unfortunately, a significant portion of both employers and employees are oblivious to the laws that protect workers' rights in such a scenario.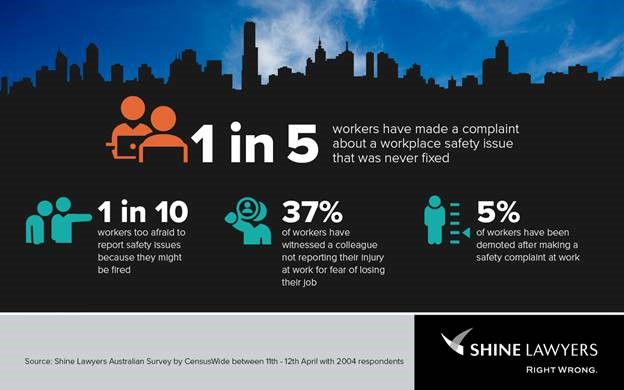 Whilst strict penalties undoubtedly ought to be imposed on negligent employers, workers must consider the bigger picture and not let their pride get in the way of raising safety concerns or reporting an injury. At the end of the day, nothing is worth severely injuring yourself, or failing to return home. Often, the impact of which is immeasurable.
Should you or a member of your family face adverse action as a result of raising safety concerns in the workplace, the Employment Law team at Shine Lawyers can assist you. Adverse action is not merely confined to dismissal but includes demotion and the imposition of shift cuts. Through our tailored initial consultation service, our employment lawyers will inform you of all your legal rights and empower you to take the course of action that best suits you.
Further, should you have suffered an injury at work, our Workers Compensation Team may be able to help you get back on your feet through the WorkCover system. With expert legal help, the full extent of your entitlements can be explored and maximum compensation recovered.
Written by Shine Lawyers. Last modified: July 24, 2018.