---
Working from home is one of the benefits technology has offered employees. It allows parents, carers and anyone else to continue working when they wouldn't normally be able to.
Many argue that allowing people to work at home would be a poor business decision. However, a Stanford study found that letting people work from home made them happier, less likely to quit and more productive.
Just because an employee works from home, it doesn't mean that they are no longer the employers' responsibility. Work Health and Safety laws still apply when an employee is working from home. There have been cases in Australia where employees have been compensated for injuries they have received at home during work hours.
Before making arrangements you should firstly consider the employee and the job that they perform. Keep in mind, this type of work is best for those with work that is measurable and 100% online.
Does the employee demonstrate initiative?
Does the job require face-to-face contact with customers?
Does the role require supervision?
Is there a lot of teamwork involved?
Will there be extra costs to the business when making adjustments to the employee's home?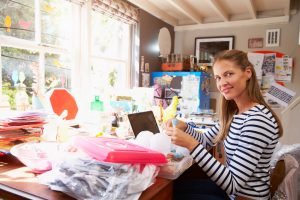 Regulations
If this is favourable, you should turn to the employee's home. Employees homes must meet certain regulations and it is an employers job to make sure it is compliant.
Entry and exit access should comply with normal business requirements.
Employers and employees should conduct an audit and make any required alterations.
Discuss what the insurance and potential compensation will cover.

Property and Equipment
Damage to the employee's house or property
Property damage caused by an employee's motor vehicle being used for work
Public Liability if employees will be meeting with customers
It is also important to make sure your employees are mentally healthy while working from home. Employers should check in daily to make sure that everything is OK and it also helps to keep good work relationships.
Before making any arrangements talk to your insurance provider to make sure you are fully covered and prepared.
Written by Shine Lawyers. Last modified: September 6, 2018.