---
The rise in popularity of indoor trampoline parks has come with a cost: an increase in children's injuries. Doctors have warned of an "emerging public health concern" as recent research has revealed the dangers that parks like Bounce and Sky Zone pose.
Shine Lawyers has seen many clients that have hurt themselves while visiting these indoor trampoline parks.
A study published in the journal Inquiry Prevention reveals that 40 children needed medical treatment in just over six months for injuries that occurred at trampoline parks. The study, conducted by Neuroscience Research Australia, looked at medical records from the emergency department of Sydney Children's Hospital from July 2014 to January 2015. Since that report was published in 2015, it has been widely reported in the media that the number injuries has sky-rocketed with hundreds of injuries reported at different locations across the country.
Common Injuries
In 2015, according to an article published in the Sydney Morning Herald, emergency departments across NSW saw children with ligament damage, broken bones and spinal injuries. The issue isn't confined to Australia. In the United States, there have even been reports of serious injuries and even deaths.
Another article, published in 2016 reported that there were 66 ambulance call-outs to a popular Gold Coast trampoline park which resulted in a variety of injuries such as dislocations, fractures, snapped teeth and stitches. This did not take into consideration those parents that drove their children to the hospital.
Why these Injuries Occur
Majority of the injuries occur when a child has been alone on a trampoline and landed incorrectly. This could be due to lack of supervision, poor safety equipment or overcrowding.
Other injuries occurred after children attempted to perform tricks, or where playing with sporting equipment like a ball or pool noodle.
[caption id="attachment_122331" align="alignnone" width="300"]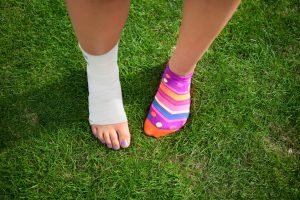 Young girl showing her sprained ankle injury. Via iStock[/caption]
Why these Injuries are on the Rise
Indoor trampoline parks are becoming more popular both in Australia and overseas. Over twenty indoor trampoline parks have opened over the past few years, and about three new parks open each month.
The study's researchers believe public health initiatives should focus on preventing injuries at trampoline parks, and that national safety standards need to be implemented.
Written by Shine Lawyers. Last modified: August 31, 2016.