---
Our Medical Law team has the privilege of working with inspirational Australians and their families living with cerebral palsy. Their journeys and the challenges they have overcome are nothing short of remarkable.
Rex is one of our incredible clients. His journey started in 2006 in a rural Queensland hospital, and it is our privilege to share his story.
The day before Rex was born, his mother was admitted to hospital with severe symptoms of pre-eclampsia, a dangerous condition that can affect both mother and baby. His mother's condition meant Rex should have been delivered urgently but due to delays by the hospital, he wasn't delivered until the next morning by which time he was in severe distress. Rex was finally delivered via an emergency caesarean section, and was born with a severe acquired brain injury that resulted in cerebral palsy.
Rex's parents were of course filled with joy at the birth of their son, however at the news their newborn would likely have lifelong difficulties, they were forced to turn their minds to the avenues that were available to them to ensure their son had access to the highest possible standard of care and quality of life.
When Shine Lawyers' Medical Law team looked into the case, they established that Rex's brain injury had been caused by avoidable medical oversight, and there were grounds for a medical negligence claim to be brought.
Our team listened carefully to their story and talked through all available options, taking the time to explain the legal process, so that Rex's family had an understanding of their rights and were able to regain some control during what was an exceptionally challenging and highly emotional time.
Throughout the legal journey, Rex's legal team spent considerable time getting to know Rex, his family and support networks to ensure they fully understood what living with cerebral palsy was like for this family. Having a thorough knowledge of the challenges faced by Rex and what was important to his parents meant that they could tailor his claim to his needs and his family's desires for his future.
This made all the difference when Rex's legal claim was successfully settled and he was awarded the much needed funds to help him live a full and happy life. It also took the burden off his parents who could return to being parents again without the uncertainty of how they would afford to meet Rex's needs both now and in the future, particularly when they were no longer around.
Cerebral palsy resulting from medical negligence
According to statistics published by the Cerebral Palsy Alliance, one in every 500 babies born in Australia has cerebral palsy. Often, cerebral palsy is the result of unforeseen complications or events occurring during pregnancy, birth, or shortly thereafter, which impact the baby's brain development. However, in some instances, cerebral palsy can be directly caused by negligent medical treatment.
If a healthcare provider's negligence leads to cerebral palsy, the law is there to ensure that affected families have access to the compensation they need to live the fullest life possible without financial constraint and with the security of knowing their child will be provided for in the future.
For the clients we have helped seek justice, bringing a claim is never just about money. An award of compensation certainly relieves significant financial burden for parents and families however, more importantly, it opens up opportunities for their child to participate and contribute to their community and society.
Inspired by our clients like Rex, our team of medical law experts felt compelled to share their knowledge by producing a free guide to cerebral palsy medical negligence cases, in order to help those affected understand their legal rights. Our hope is that through this guide, families in similar circumstances will see that they are not alone, and have access to the support and guidance they need.
Please download your free copy of the guide via the link below.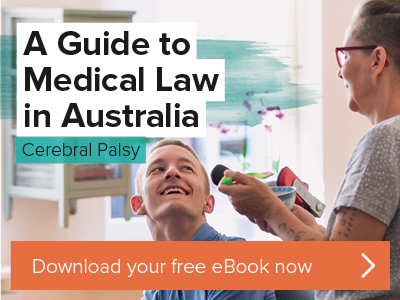 Written by Shine Lawyers. Last modified: October 6, 2020.