Trevor*, a 60-year-old man, was travelling on a bus. Unfortunately, the bus driver wasn't paying full attention to the road, and was forced to brake suddenly. Trevor was thrown about in his seat and sustained a prolapsed disc in his back. Prior to the accident, Trevor taught first aid and loved his work.  After the incident, he was able to return as a trainer but had to reduce the extent of his duties, causing him to lose shifts.
Trevor brought a public liability claim, which was settled before the case made it to court. He was awarded compensation for economic loss and his pain and suffering. He was very happy with the settlement amount and eager to move on with his life.
Injuries on public transport
Injuries incurred on public transport are unfortunately quite common, and can include sprains, breaks and back injuries.
If you are injured on public transport, there are several things you should do:
Report the accident to the public transport operator;
Record the contact details of any witnesses;
Seek medical treatment;
If you are in Victoria, phone the TAC (Transport Accident Commission); and
Seek legal advice regarding compensation.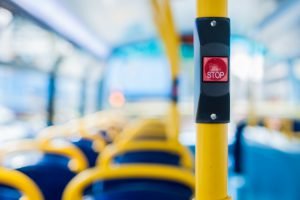 TAC: Compensation for Victorians
If you've been injured on public transport in Victoria, you can make a claim with the TAC. Our TAC lawyers can assist you in pursuing compensation to help you get back on track. Depending on the nature of your accident, the TAC can offer reimbursement for pain and suffering, financial loss and loss of enjoyment of life.
As well as Victorian residents injured within Victoria, the TAC also provides relief to Victorian residents who are injured interstate in accidents involving vehicles registered in Victoria. A non-Victorian resident who is injured in an interstate accident as an occupant of a vehicle registered in Victoria is eligible too.
Bus safety tips
Although public transport in Australia generally isn't dangerous, injuries and incidents can occur. While nothing can guarantee that an accident won't happen, following these few simple tips is a good way to reduce the risk of sustaining a serious injury.
Remain in your seat throughout the journey.
Don't distract the driver while the bus is moving.
If you're standing up, place your bag(s) on the floor between your feet.
Offer your seat to any person who is elderly, pregnant or disabled.
Click here for more transport-related news.
*not his real name
Written by Shine Lawyers on . Last modified: August 8, 2017.