Essential Info
Memberships and Associations:
Member of the Law Institute of Victoria
Member of the Australian Lawyers Alliance
Admitted to practice in the Supreme Court of Victoria
Workers' Compensation Committee Member - Law Institute of Victoria
Committee Member - Australian Lawyers Alliance
Law Institute of Victoria Accredited Specialist in Personal Injury Law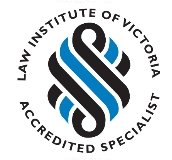 Michel Margalit
Branch Manager, Dandenong at Shine Lawyers Ltd
View LinkedIn profile
"We provide a voice to those who would otherwise be unheard, and help those in need to get their lives back on track."
Branch Manager of Shine Lawyers' Dandenong office, Michel Margalit is dedicated to ensuring members of the Dandenong and surrounding communities have access to individually tailored legal advice in their hour of need.
A proficient plaintiff solicitor, Michel specialises in assisting clients with TAC, WorkCover, public liability and common law claims.
Michel obtained her Bachelor of Laws from Monash University, and a Masters of Applied Law with the College of Law, specialising in Wills and Estates. She is currently furthering her studies, completing her second Masters of Laws with the University of Melbourne, focusing on personal injury law and civil litigation.
In 2017, Michel received her Specialist Accreditation in Personal Injury Law – a reflection of her tenacity, perserverance and legal expertise.
Compassionate and empathetic, Michel takes a holistic approach to supporting her clients through their legal journeys. She takes the time to listen, understand her clients' needs, and explain the legal process clearly and completely.
Michel is an active member of the Victorian legal profession, and is a member of both the Law Institute of Victoria Workers' Compensation Committee, and the Australian Lawyers Alliance Committee.
For more information on how Michel and the Dandenong team can help you with your legal claim, visit today.