Essential Info
Memberships and Associations:
Admitted to the Supreme Court of Victoria (2002)
Transport Accident Commission Committee Member - Law Institute of Victoria
Workers' Compensation Committee Member - Law Institute of Victoria
Member of the St Kilda Football Club
Law Institute of Victoria Accredited Specialist in Personal Injury Law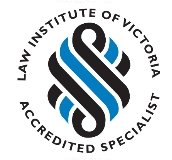 Community Involvement
Sponsorship of the Geelong Football Club
Stuart Le Grand
General Manager Victoria, Melbourne at Shine Lawyers Ltd
View LinkedIn profile
'My focus is simple – to help people overcome the devastating impact injury has on their life.'
Stuart Le Grand is the General Manager of Shine Lawyers Victoria. He provides leadership and guidance to a team of experienced legal professionals and ensures all operations are centred on providing quality service to clients.
Stuart holds a comprehensive understanding of the intricacies of plaintiff law, gleaned from nearly 15 years' experience in the industry. He worked for seven years as a Senior Solicitor with the Transport Accident Commission, granting him valuable knowledge of the procedures involved in the claims process. Stuart also worked as a Practice Group Leader for a prominent plaintiff litigation firm before joining Shine Lawyers in 2016.
Stuart is an acclaimed solicitor in his field of expertise and was recognised as an Accredited Specialist in 2009. He is a fierce advocate for those he represents, ensuring each client has a complete understanding of their case, the law and the outcome to be achieved. Stuart will leverage his skill and experience as a solicitor to ensure rightful compensation and justice are achieved.