---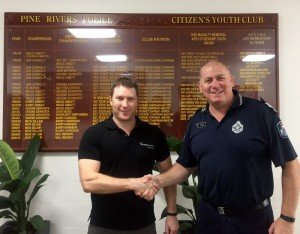 Shine Lawyers
is excited to announce the sponsorship of Pine Rivers PCYC and Lawnton State School.
Shine Lawyers
has a rich history in the region, having helped many clients get the justice they deserve in difficult circumstances over many years.
PCYC Queensland is a not-for-profit, member based youth development organisation with 53 clubs across Queensland.  The Pine Rivers PCYC does a fantastic job of providing courses and supervised activities for a wide range of youths – from those in difficult financial circumstances to school children with learning difficulties.
Glenn Brown, Branch Manager at Shine Lawyers North Lakes, recently approached the club with a view to helping the local community and the PCYC's commitment to providing programs for local schools. Glenn, who served as Medic with the Australian Army and as an Advanced Paramedic with the Queensland Ambulance Service before moving to the legal profession said he wanted to maintain ties with emergency services and to help enable the PCYV to continue with its tireless work in the Pine Rivers region.
Sgt Ty Connell, Club Manager of Pine Rivers PCYC said it was fantastic that Shine Lawyers Strathpine had approached him about helping the PCYC, which receives little direct funding. "We thought it overwhelming that Shine Lawyers would offer to assist us even where there wasn't any direct benefit to them....it's great that they are doing it just because they want to help the community and the kids".
The sponsorship will be used solely to allow the children at Lawnton Primary School to attend youth programs offered at the PCYC that they would likely have not been able to attend otherwise.  Shine Lawyers Strathpine will also be sponsoring a monthly prize, the "Shine Bright" award at Lawnton State School, for the student that displays the best attitude in accordance with the schools values.
Glenn Brown, Branch Manager at Shine Lawyers Strathpine said "We are very excited about being able to help the Pine Rivers PCYC continue to provide courses to the children of Lawnton Primary School. After meeting with both the PCYC and Lawnton State School, my whole team and I felt it was absolutely the right thing to do. There is such a great energy evident from everyone involved in this arrangement. If anything, it's a privilege for Shine Strathpine to be able to assist".
Written by Shine Lawyers. Last modified: October 29, 2015.