---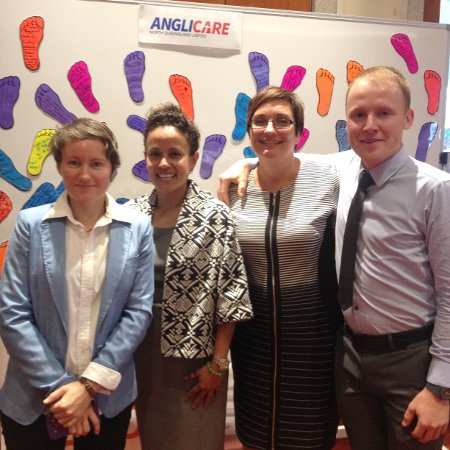 Carrie and Trent from the Cairns Branch with members of the Cairns Homeless Persons Legal Clinic (HPLC).
We spoke to
Shine Lawyers Cairns
Branch Manager, Carrie Thomas, about the work the Cairns team have been doing in their local community.
1. Why do you volunteer at community legal centres? Shine is proud to be a pro bono partner of both the Cairns Community Legal Centre (CCLC) and the Cairns Homeless Persons Legal Clinic (HPLC). Our solicitors volunteer at the centres during business hours to provide free legal advice to clients of those centres.
Often, people just don't know where to start with their problems. The costs of private legal services can be daunting and often prohibitive. Through our work at these centres we assist with legal advice, information and referrals – giving clients practical assistance and direction. Our team of solicitors in the Cairns Branch are proud to volunteer as a means of giving back to our local community.
2. What do you like best about volunteering? Empowering people with information and practical assistance to be able to deal with their problems themselves with confidence.
3. How many staff in the Cairns branch volunteer their time at legal centres? All our solicitors volunteer their time on a rotating roster system.
4. Would you encourage others to volunteer at a community legal centre? Yes. According to the Queensland Law Society over 80,000 people were turned away from Community Legal Centres last year due to lack of funding and resources. That's too many people living with stress from not knowing what they can do to navigate or solve their legal problems. That stress has a flow on effect to their families.
5. Do you volunteer anywhere else in the Cairns community? Each of our team members also volunteer their own time in various organisations including school boards, school P & F committees, parish finance committees, Australian Foundation for Healing Touch, as well as International Volunteer Headquarters teaching English overseas- just to name a few.
6. How long have you been based in Cairns? I'm a born and bred local as are most of our team members.
More information about Carrie Thomas can be found here.
Written by Shine Lawyers. Last modified: February 29, 2016.