---
Red Collar Rescue is an animal rescue group based in Biggenden that provides temporary refuge and eventually new homes for abandoned, abused, unwanted and death row dogs. Shine Lawyers Bundaberg are proud to support the team at Red Collar Rescue through sponsorship of their biggest fundraiser of the year, the 'Red Collar Rescue Family Fun Day'.  As sponsors for the last three years, this major fundraiser has seen over $20,000 raised with every dollar going back to the great work performed by Red Collar Rescue.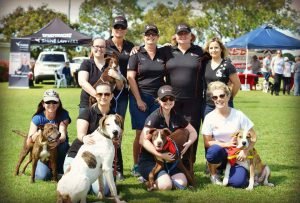 The Red Collar Rescue Family Fun Day is a great day for the community to get out and explore the market stalls, enjoy the rides and festivities and meet with emergency services personnel and local businesses.
Shine Lawyers welcome you to join us at the Red Collar Rescue Family Fun Day
Date: Saturday 22 April 2017
Time: 9am – 3pm
Where: Bundaberg West State School.
For more information about Red Collar Rescue visit - http://redcollarrescue.org/
Written by Shine Lawyers. Last modified: February 21, 2017.