---
Shine Lawyers has welcomed a inquiry by the Human Rights Commission into sexual harassment in Australian workplaces saying the firm is investigating more than double the number of cases than last year.
After the Harvey Weinstein revelations in October 2017 Shine Lawyers reported a 128% increase in the number of enquiries about workplace issues to its national call centre. By December the firm was investigating more than double the usual number of sex harassment cases and is still receiving weekly calls.
"Our employment lawyers are still taking up to five calls a week from people reporting sexual harassment. This increase in calls on employment matters has been unprecedented. The Commission's inquiry will be an enormous step forward in stamping out this scourge in Australian workplaces," said Shine Lawyers Employment Law expert Will Barsby.
"In our experience it takes time for victims to speak out, sometimes it can be years before harassment is reported. This inquiry will shine a spotlight on sexual harassment that will really give people immense courage and confidence to speak out and it's likely we will see another spike in cases," said Mr Barsby.
Shine Lawyers Call Centre Statistics
Shine Lawyers national call centre received 645 calls requesting help with general employment rights in October 2017 compared to just 341 calls in September - an increase of 89%.
There were then 779 calls in November, a rise in employment law enquiries of 128% in just two months.
By December 2017 the number of workplace sexual harassment cases the firm was investigating had also more than doubled to 260.
Recent Shine Lawyers Survey Statistics
The research was conducted by Censuswide in Australia between 27th February 2018 and 1st March 2018, with 2,009 respondents aged 16+. The alarming findings indicated:
Over a third of women polled (35%) said they have been a victim of harassment/ discrimination in the workplace.
Almost half of the women polled (48%) who said they had been a victim of harassment/ discrimination said it took the form of sexual advances
Over half of women polled (55%) said they had witnessed favouritism of male colleagues
More than two fifths of men and women (43%) said they had witnessed sexual advances being made in the office
Of the women that said they didn't report the incident to senior staff (70%), almost half (45%) gave the reason that they didn't think their employer would do anything about it, a further 36% said it was because their senior colleagues were the perpetrators, others were worried about losing their job or said they were too embarrassed or feared they wouldn't be believed
State based findings – three highest statistics:
More Queensland women (37%) said they had been a victim of sexual harassment and discrimination, while just over a third from the Northern Territory 36.4% and Victoria 36.1% reported they had been a victim
More than half of Queensland women (52.7%) who said they'd been harassed were the victims of sexual advances, followed by Western Australia (51%) and NSW (50.8%)
People from the Northern Territory are most likely to witness sexual advances being made in the office: half of NT (50%) followed by WA (48.9%) and South Australia (45.9%)
Capital City Findings – three highest statistics:
More than a third of women in Canberra (36.4%) Melbourne (36.3%) and Adelaide (36%) say they have been victims of harassment and discrimination
Percentage of women polled who said they had been harassed and were the victims of sexual advances: Sydney was the worst with more than half of female residents saying they'd been the victim of sexual advances (53%) followed by Perth 51.2% and Brisbane 50.8%
The number of people saying they had witnessed sexual advances in a workplace was significantly higher in Canberra 64.3%, the next closest was Perth on 46.7% and 46.4% in Adelaide.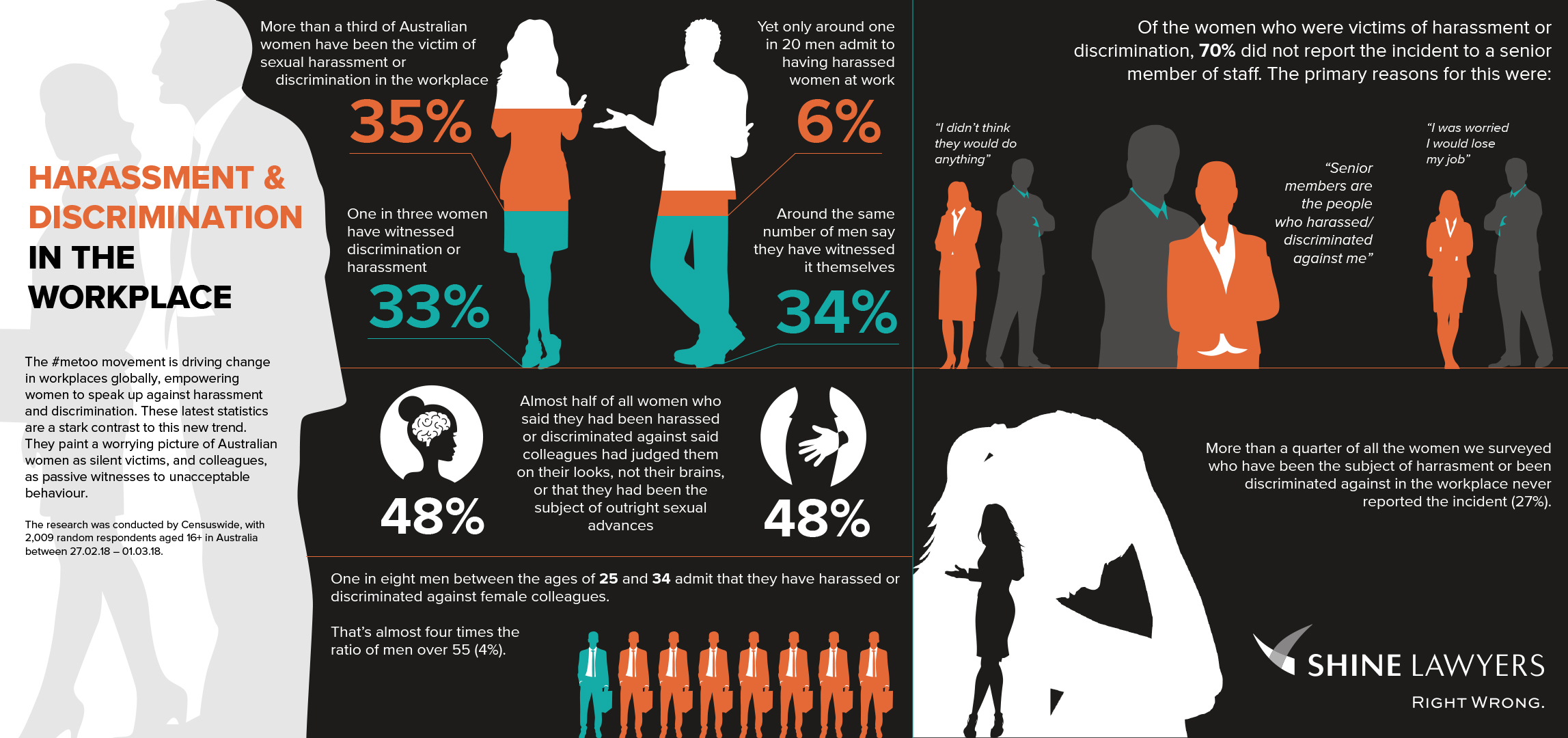 Written by Shine Lawyers. Last modified: September 26, 2018.