---
Each year on the 8th of March, the world comes together to acknowledge the economic, political and social achievements of women throughout history. This has been the case since 1909 when International Women's Day was first celebrated. Since then, the day has become a global source of support for women's rights and equality between genders.
International Women's Day, however, is not just about celebrating achievement. It is also a day to raise awareness for the inequalities still affecting women today. This year, International Women's Day is adopting the Be Bold for Change campaign, focusing on equal rights for women in the workplace.
Women at work
In Australia, women make up a significant proportion of our working population, with 46% of all employees in Australia being female. This has increased significantly since the 1980s, when discrimination and gender-based restrictions prohibited most women from even joining the workforce.
Still a way to go
Despite this growth of female presence, we still have a long way to go in the fight for gender parity at work, especially when one looks at leadership positions. According to
recent studies
, the number of women holding senior roles in Australia's largest 200 companies has fallen in 2017, with only nine women CEOs and ten women chairing boards. Even those industries with a predominantly female workforce, such as health, educaiton and retail,  are lead by male leadership teams.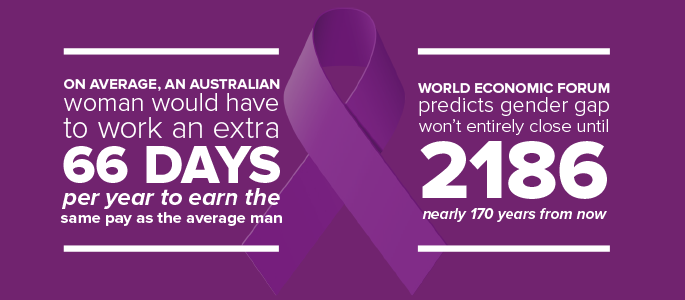 Unfortunately, the story doesn't end there. The average woman's weekly salary is still 16.2% less than a male's. This equates to $283.20 less every week, or a staggering 66 extra work days every year.
More shocking still is the fact that a quarter of all women workers have experienced a form of sexual harassment in their workplace between 2007 and 2012.
Be bold for change
The World Economic Forum predicts we have nearly 170 years to wait until the gap between genders is completely closed. However, by following the International Women's Day campaign and taking bold action toward change, the wait may not be so long.
As a company with a strong 76% female workforce, Shine Lawyers is proud to support International Women's Day. Be bold in action and help make the working world a better place for women everywhere.
Written by Shine Lawyers. Last modified: March 7, 2017.