---
At Shine Lawyers, we pride ourselves on the expertise and ability of our dedicated legal teams. Through their devotion and hardwork, we're able to achieve justice and results for our clients.
We'd like to acknowledge and congratulate the following members of the Shine family who have been recently recognised for the provision of exemplary legal services by the 2017 Doyles Guide: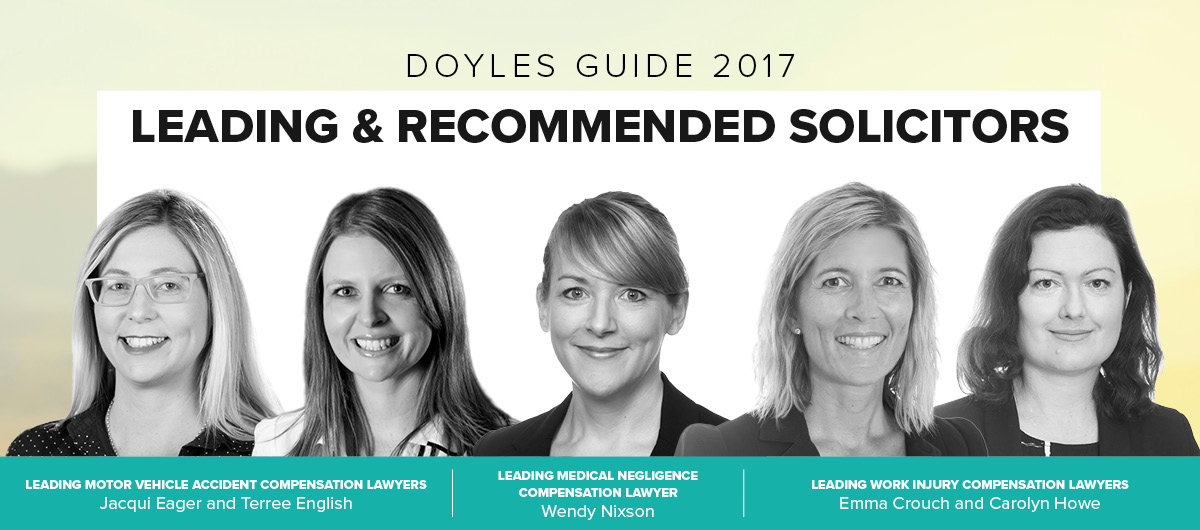 Emma Crouch - Recommended
Emma is General Manager of Shine Lawyers' North Queensland operations and has been delivering outstanding results for Shine clients for over 15 years.
Carolyn Howe - Recommended
Carolyn has been a dedicated member of Shine Lawyers' Toowoomba branch for over a decade and is passionate about achieving the best results for her clients.
Jacqui Eager - Recommended
A highly experienced and esteemed lawyer, this is the third consecutive year Jacqui has been recognised by Doyles Guide for the provision of exemplary motor vehicle accident compensation services.
Terree English - Recommended
With over 15 years of dedicated service, Terree is an inspired and passionate advocate for her clients and ensures each gains access to the justice they deserve.
Wendy Nixson - Leading
As General Manager of Shine's Brisbane and South West regions, Wendy is devoted to providing her clients with legal guidance and support of the highest quality.
About Doyles Guide
Doyles Guide
is an independent organisation that conducts Australia's most comprehensive review of the legal industry. Each year, Doyles Guide surveys clients, colleagues and industry bodies to rate law firms, lawyers and barristers.
Legal practitioners who draw the praise from both peers and clients are then recognised for their outstanding client service and legal expertise.
Congratulations again to Emma, Carolyn, Jacqui, Terree and Wendy for delivering outstanding legal services to our deserving clients. 
Written by Shine Lawyers. Last modified: October 24, 2017.