---
Melbourne woman Kelly Thompson was stabbed to death by her former partner, Wayne Wood, in Melbourne's west in February 2014. Judge Ian Gray found that her death was preventable and that police made critical errors in the lead-up to Ms Thompson's death.
Below are the recommendations provided by Judge Ian Gray this morning regarding the death of Kelly Thompson.
Judge Gray made six recommendations, noting he would not double up on those sufficiently covered by the recent Victorian Royal Commission into Family Violence including recommending that: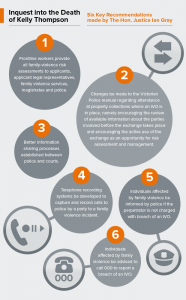 Text from graphic above. 
Frontline workers provide all family-violence risk assessments to applicants, applicant legal representatives, family violence services, magistrates and police.
Changes be made to the Victorian Police manual regarding attendance at property collections where an IVO is in place, namely encouraging the review of available information about the parties involved before the exchange takes place and encouraging the active use of the exchange as an opportunity for risk assessment and management
Better information sharing processes established between police and courts
Telephone recording systems be developed to capture and record calls to police by a party to a family violence incident
Individuals affected by family violence be informed by police if the perpetrator is not charged with breach of an IVO
Individuals affected by family violence be advised to call 000 to report a breach of an IVO
The full findings and recommendations from this inquest are available here
http://www.coronerscourt.vic.gov.au/home/coroners+written+findings/finding+-+inquest+into+the+death+of+kelly+ann+thompson
Written by Shine Lawyers. Last modified: April 20, 2016.