---
Despite being one of the leading causes of road accidents in the country, driver fatigue has always been incapable of detection through roadside testing. However, this is about to change. Victorian researchers are currently working on a new roadside test to measure driver fatigue levels in an effort to keep drowsy drivers off our roads.
Driver fatigue - a major problem in Australia
It cannot be disputed that over-tired drivers have a devastating impact on Australian motor vehicle accident statistics:
In Victoria alone, a third of serious accidents are caused by driver fatigue, killing about 50 and seriously injuring around 300 individuals every year
In New South Wales, fatigue is one of the three major causes of death on the roads, along with drink driving and speeding
According to the 2016 Sleep Health Survey of Australian Adults, of the 1011 people surveyed, 29% of those felt drowsy while driving at least once a month and an alarming 20% have fallen asleep at the wheel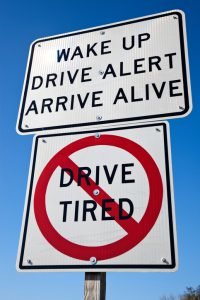 Development of new technology for tired drivers
A revolutionary roadside test is currently being developed under the leadership of Austin Health Associate Professor Mark Howard to help combat these shocking figures. Mark and his research team are creating 'smart glasses'. The glasses will sense eye movement and measure the length of a driver's blinks to determine their level of fatigue. Ultimately, the test will allow police officers to test a driver's fatigue levels in the same way as roadside drug and alcohol tests.
At present, the only way to combat driver fatigue is by warning drivers of the dangers of hitting the roads when tired, and encouraging them to take regular rest stops. Once development of the test is complete, it is hoped these measures will be implemented all around Australia to ensure driver fatigue and its devastating consequences are minimised.
Written by Shine Lawyers. Last modified: March 2, 2017.