---
Stress at work is an increasing problem and more people are trying to find a way to remedy the situation. Google Trends demonstrates this nicely, below shows the changes in stress-related searches on Google.
[caption id="attachment_109141" align="alignnone" width="300"]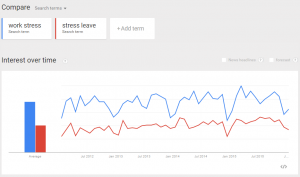 Image from Google Trends[/caption]
Taking a break at work can be a great way to reduce stress at work. And stress isn't the only reason to take regular breaks at work. Here are 4 reasons why...
We are less productive without breaks. It is fair to say that when you are on a roll with a particular task, you just want to keep going. However, eventually the tank runs out of fuel. A break will help you refocus, approach the task in a new way and may even inspire you.
Breaks allow your brain to rest. Resting physically and mentally will revive you for the next part of your day, allowing you to work at your optimum level.
Work smart, not hard. Working at an optimum level for a shorter period of time has been proven to be better than working at only half capacity for a long period of time.
Ignoring your break can affect your health. Working for long periods of time has been scientifically proven to lead to heart disease, diabetes, stress related disease and repetitive strain injuries.
Good break activities
So what are some activities you can do on your break to boost your productivity and look after your health?
Take a walk – will increase blood flow to the brain improving memory and cognitive performance.
Eat – great brain boosting foods to have on your break include fish, nuts, seeds, dark chocolate, avocado, blueberries, wholegrains and raw carrots.
Read – fiction books allow you to understand different type of people and situations, it is a great way to practice seeing a situation from another perspective.
Get a coffee – for people who get up between 6am and 8am, the optimal time for coffee is between 9.30am and 11.30am and 1.30pm and 5.30pm.
Listen to music – music has been proven to improve motor and reasoning skills.
Talk to coworkers – this is a productive way to break, as you can talk about any issues you may be having, get advice and de-stress.
Plan something fun – use your break to plan a fun activity in your social time.
Have a look online – do some online shopping, watch cute videos or scroll through Facebook.
Exercise – many organisations have fitness groups which meet at lunch to exercise. This is a great way to stay motivated in your fitness goals.
Written by Shine Lawyers. Last modified: May 24, 2016.