---
Workplace bullying, harassment or discrimination can make you feel powerless, as if no one is on your side. But this isn't the case. For employers, tolerating or promoting these toxic behaviours in the workplace rather than creating inclusive and safe environments is not only immoral; it's contrary to the law. Every employee has the right not to be bullied, harassed or discriminated against at work.
A national survey of more than 2,000 individuals conducted on behalf of Shine Lawyers found that more than a third of the women polled (35%) had been a victim of harassment and discrimination at work. More than a quarter of those women didn't report the incidents. Many said it was because they were worried they wouldn't be believed or might lose their jobs.
If you're experiencing workplace bullying, harassment or discrimination, there are some important steps you can take to stand up for yourself and protect your rights.
Step 1 - Speak to the perpetrator
Although not appropriate in all situations, the first step can sometimes simply be to have an open discussion with the perpetrator about the behaviour. Let them know how it's making you feel. Be honest but keep things professional and polite. Confronting your bully face to face may be terrifying (or simply awkward), but this can potentially be an effective way of making the behaviour stop.
Sometimes, the perpetrator is genuinely unaware of how they're making you feel. Other times, even if their behaviour is deliberate, a firm conversation might prompt them to stop. The fact that you've had this conversation may also support your case if you have to resort to the next steps. So make a careful note of the circumstances and the discussion you had.
Step 2 - Speak to someone else
If talking to the perpetrator is impossible or ineffective, the next step is to talk to someone else at your workplace or union. The best person to consult will depend on your workplace's structure and the relationships you've formed. Often your manager, someone from Human Resources or a representative from your union (if any) will be well-positioned to help. Your employer should have an internal complaints procedure designed to address issues of bullying and harassment.
Also, don't be afraid to share the burden with someone you trust, like a friend or partner. They may not be able to change your situation, but it's just as important to take care of your emotional health, especially during periods of stress at work.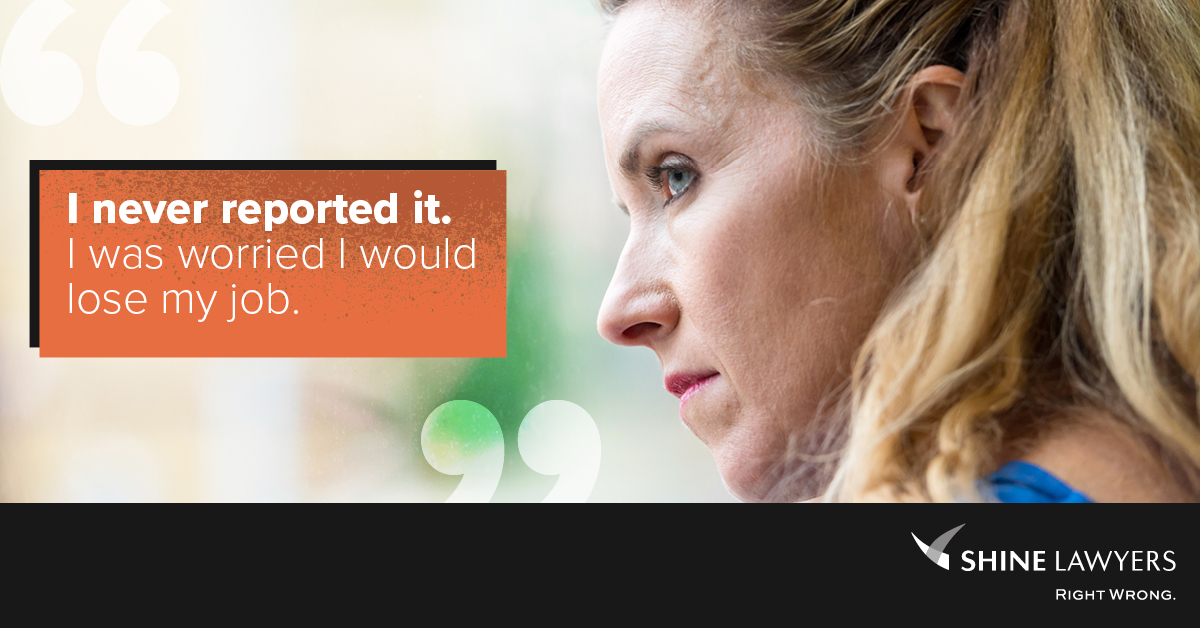 Participant response in a recent national survey of over 2000 people about workplace harassment and discrimination conducted on behalf of Shine Lawyers
Step 3 - Lodge a complaint with the Fair Work Commission
If you're unsatisfied with how your work has managed things internally, you don't have to give up and accept the behaviour. You can go beyond your employer and lodge a complaint with the Fair Work Commission.
The Fair Work Commission has the power to make orders preventing the perpetrator from continuing the harassing behaviour. You may wish to have a lawyer help you lodge your complaint to make sure it meets the right criteria, contains a strongly constructed argument, and is lodged within the applicable time frame.
Step 4 - Seek legal advice
An expert in employment law will be able to assess your situation and show you the best way forward. You can consult a lawyer at any stage of the process, from when the behaviour first begins to when you've tried everything to no avail.
Other advice
There are a few other things you can do to strengthen your case and protect your rights:
Take action as early as possible – Don't wait for things to get worse before speaking up.
Keep a record – This can be as simple as keeping a paper diary where you write down every instance of bullying, harassment or discrimination including information about the perpetrators, dates, times and witnesses. This record will be especially important if you need to lodge a complaint with the Fair Work Commission.
Inform yourself – Arm yourself with as much information as possible. Get a copy of your contract, award or enterprise agreement and any relevant workplace policies or procedures.
Shine Lawyers' employment law practice
If you're experiencing mistreatment in your place of work, we're here to help. Shine Lawyers are experts in all aspects of employment law, including workplace bullying, harassment and discrimination. Our lawyers simplify the legal system and guide you through all your rights and entitlements as an employee.
To find out more about how Shine Lawyers can work for you, contact our employment team today.
Written by Shine Lawyers. Last modified: January 28, 2021.