---
Sometimes a wrongdoing can affect more than one person. A class action is a legal case filed on behalf of a group by a single legal representative. Class actions were first introduced in 1992 to provide a more efficient way of dealing with group claims and to provide people with access to justice.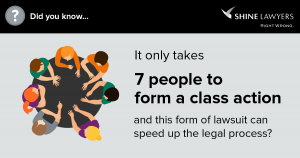 Class actions take place in the Federal Court and State Supreme Courts. For a class action to take place the case must have:
7+ people making claims against the same person/company
the claims come from the same, similar or related circumstances
the claims relate to at least one common issue of law or fact
Class actions in Australia are conducted in an opt-out model. This means that all potential claimants become members of the class action whether they intended to participate or not. These members are bound by the judgment of the court or settlement unless they opt-out. You will be notified if you are involved in a class action.
Class actions in Australia
In Australia there have been a number of successful class actions. Types of class actions include:
Claims by residents/businesses following natural disasters;
Employee/union discrimination claims;
Claims by creditors against directors/advisors of failed companies;
Franchisee claims;
Claims by investors in Managed Investment Schemes;
Claims against trustees of Superannuation Funds;
Telecommunication consumer claims; and
Cartel claims.
In March 2016 Shine Lawyers and Maurice Blackburn reached a conditional agreement with Johnson & Johnson and DePuy International to settle the DePuy ASR hip class action for $250 million, subject to court approval. For more information, see the DuPuy class action.
Elsewhere in the world class actions have also provided settlements in a wide range of cases. The largest of these have tended to be in the financial and investment spaces.
In 2006 the collapsed US energy trading company, Enron, was subject to a US$7.4bn settlement on behalf of investors. The company disguised losses and mislead investors, leading to the biggest class action settlement in history.
Class actions are generally conducted on a 'no win no fee' basis. For other examples of cases we've worked on, see [our service page], https://www.shine.com.au/service/class-actions/.
Written by Shine Lawyers. Last modified: May 10, 2016.