---
Case Study: Schonell v Laspina, Trabucco & Co PTY LTD
Tim Schonell suffered injuries to his left knee and as a result suffered Complex Regional Pain Syndrome Type 1 (CPRS) when a ladder gave way during his course of employment at Laspina, Trabucco & Co PTY LTD.
Mr. Schonell was a block layer when he fell while working on a platform comprising of aluminum planks set on trestles. At the time, he had stepped from that platform onto an adjacent ladder, which subsequently gave way.
When this case first went to Court, the claim was rejected, because the defendant claimed they had checked the ladder before use. Mr. Schonell also said he had checked the ladder before climbing. The Court of Appeal stated that the brace broke after inspection, and a reasonable inspection would have been able to identify the defect. Therefore, the case was dismissed.
Injury Statistics
This is a common injury in the construction industry. According to Safe Work Australia, the most common cause of incidents for construction workers are falls from height, followed being hit from falling object, contact with electricity, vehicle collision and being hit by moving objects.
To further highlight the dangers of ladders, a quarter of deaths in the construction industry were caused by falls from ladders.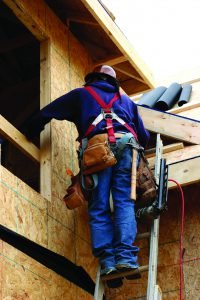 What makes ladders so dangerous?
1. Selecting the wrong type of ladder
Employees must take into consideration the height and weight capacity of the ladder before use.
Not regularly maintained
Regular stress on ladders results in wear and tear. Keep up maintenance on ladders to ensure they are safe for use and throw out any that are unrepairable.
Lack of proper training
Education is key to ensuring employees understand the do's and don'ts of ladder use.
Basic tips for avoiding ladder injuries
Only use a ladder as the last resort
Face the ladder when climbing it up or down
Do not reach for anything while on the ladder
Secure the base of the ladder on even ground
Only use well maintained ladders
Written by Shine Lawyers. Last modified: September 7, 2017.