---
Australians are chronically under-insured. In fact, only 1 in 5 of us has enough cover to replace our belongings and our homes if we lost everything in a fire or a flood.
People who rent their homes are even less likely to have insurance at all. Research from the Insurance Council of Australia found around 63 percent of renters don't even have contents insurance. Most people choose their insurance based purely on the price of the premium rather than quality of the policy, and 68 percent of us just guess how much our belongings are worth rather than getting proper valuations.
Insurance is costly but it is your fall back when something terrible happens.
Our advice when searching for the right insurer is:
Read the fine print and check what your policy actually includes or excludes.
Update or adjust your policies as life changes or you buy new items.
Shop around – ask for a discount because you have a dog or you work from home; there are many things that can help lower your premiums.
How to protect yourself in the event you need to make an insurance claim:
Take photos of items and receipts and store them in the cloud. Many companies also have phone apps to keep a record of your insured belongings.
Take photos and video damage as it happens or soon after, but before cleaning up. You'd be surprised how often people clean up without thinking to document the damage!
Check your policy covers risk in your area. If you live in a flood zone or bushfire area, does your policy include or specify that?
Regularly update your policy as you have new items or your circumstances change.
If you are a tenant in a rental home, some items might be covered by your landlord's insurance. Contact the tenants authority in your state for clarification.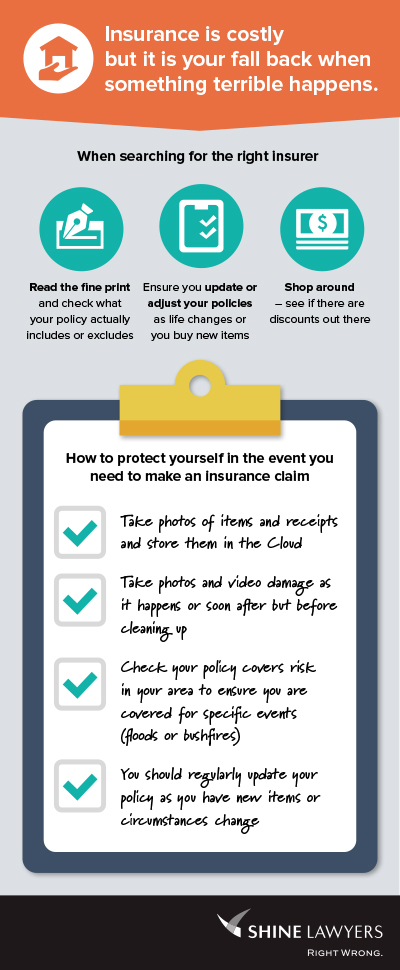 Written by Shine Lawyers on February 4, 2018. Last modified: September 26, 2018.