---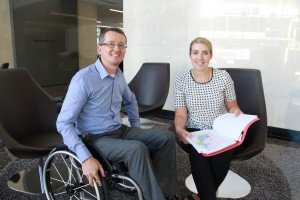 Southport Branch Manager Peter Matus has been standing up for people on Queensland's Gold Coast for many years. This week he will experience what life is like in a wheelchair by taking part in the Take My Seat Challenge, a fundraising event put on by the Spinal Injuries Association to raise money and awareness for the charity.
Mr Matus will be accompanied by a member of the Spinal Injuries Association (SIA) as he carries out daily tasks like using an ATM, ordering a coffee, catching a bus and navigating the streets in a wheelchair. He will also have to push himself 500m in a wheelchair without any stops.
"I decided to do this to get some insight in to the challenges faced by people living with physical disabilities and to raise money for this worthy cause." says Peter.
"I have supported many clients in difficult times who face these challenges, and I want to highlight some of the accessibility issues they face on a daily basis."
The Take My Seat challenge will be launched on the Gold Coast in November after being held in Brisbane and Townsville previously. SIA Chief Executive Officer Bruce Milligan said the fundraiser was launched in 2011 to highlight accessibility issues while giving community and industry leaders an insight into the challenges people in wheelchairs face daily.
Funds raised will be used to support and empower Queenslanders with these issues so that they can live as independently as possible. Written by Peter Matus
Written by Shine Lawyers. Last modified: November 3, 2013.