---
The Oakey Contamination Investigation is looking into groundwater contamination in the Queensland town of Oakey.
Potentially hazardous chemicals penetrated the soil in the surrounding areas of the Army Aviation Centre Oakey. The chemical compounds known as PFOS and PFOA, were key fire-fighting elements in the foam used by Defence personnel to mitigate blazes.
The residue from the foam used in fire-fighting drills between 1970 and 2005 leeched into the ground and saturated surrounding water systems. These chemicals are not easily broken down in the environment and are believed to have adverse effects on human health.
Acceptable concentration changed drastically
The safe concentration level of PFOS was recently adjusted down to 0.07 micrograms per litre by the Environmental Protection Agency (EPA) in the United States. A large difference when compared to the level set in Australia, 0.3 micrograms per litre - 400% more.
According to the EPA, drinking water with concentrations above this new level is now thought to be hazardous. This dramatically alters the areas affected in Oakey, with areas previously considered acceptable now above recommended levels. The graphic below highlights the extent of the issue.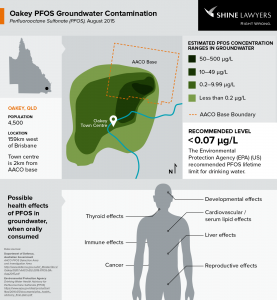 36 Australian bases could have contaminated ground water
A recent senate report identified up to 36 bases that may have contaminated the local environment, with 16 probable cases affecting local residents.
They also condemned the speed at which the Defence Department had moved on the issue, given the potential effects on people's health and property.
"We think Defence has been particularly bureaucratic and slow to address what are really widely held and deeply felt health concerns and concerns about people's property values, which have effectively been destroyed," Committee Chairman, Senator Alex Gallacher.
Shine Lawyers are representing a number of clients in the Oakey area, where residents were advised to stop drinking bore water in 2014 as a precaution.
Peter Shannon, from the Shine Lawyers Dalby, noted: "It was clear from the Senate's response that they were moved by the human impact of the 'slow-moving contamination' crisis in Oakey. It was demonstrated that everyone who was, and continues to experience a high level of stress, needs to be able to access counselling and assistance in their hour of need. It is devastating that people continue their lives without this and we urge the Defence to move proactively in ensuring residents receive the necessary support".
The Defence Department has warned that the investigation could take many years.
No more blood tests
In the initial round of Defence Department blood tests, some residents were found to have up to 44 times the national average for PFCs (perfluorinated compounds). However, Defence has said there will be no further blood tests for residents – including those who missed out.
Federal and state health authorities agree with this approach, as there is currently no certain link between illness and PFC levels. For many this is not good enough and residents may now be left in the dark over their exposure levels.
Peter Shannon added: "Providing ongoing blood testing and offering re-location services later on in the piece may prove too-little-too-late and it's vital that the government enacts this duty of care with swift action to minimise further harm".
"This contamination issue is about so much more than compensating the many damaged parties; it's about the Defence wanting and trying to right a wrong that's been done to innocent people. The time to step up and say you'll be with them through the ordeal is now".
Update: On 1 July 2017, Shine Lawyers launched a class action against the Department of Defence on behalf of Oakey residents impacted by the contamination.
Written by Shine Lawyers. Last modified: May 19, 2016.